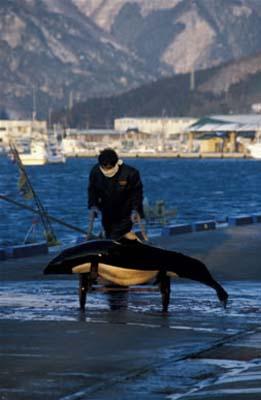 Carcasses of Dall's porpoises pile up in warehouses. Similar in size to a dolphin, the black and white cetacean often follows the bows of boats. But that friendly nature makes them easy prey for hunters.
Japan's large scale hunting has been going on continuously for around 50 years. A senior campaigner says it "is almost a secret in Japan and around the world". Clare Perry of the Environmental Investigation Agency, said, "I think one of the reasons is because it takes place in northern Japan. It's a fairly remote area and it is not quite as sensationalized maybe as some of the other whale and dolphin hunts are. " The International Whaling Commission has banned commercial whaling. However, the ban is believed to have led to an increasing demand for Dall's porpoise as a substitute.
Today, around 15-thousand Dall's porpoises are killed each year in a hand harpoon hunt. It has been repeatedly described by the IWC as "clearly unsustainable".